What people are saying about Our program
While we know our program is successful we also realize it is important to hear from some of the women who have walked the path and who have been apart of our community. Narrow Road Home represents a life-long community of women who are living lives of abundance and freedom.
All testimonials have been provided with permission by their author.
Narrow Road has opened a Creperie restaurant which I volunteer at to gain job experience and life skills. I love being there, I get the opportunity to be creative in making different things for the drink and food menu and I learn so much from the other volunteers. Through the Creperie I have really discovered a passion for cooking and most of all gardening.
The Narrow Road Home has opened my eyes to light, and slowly and patiently pulled me out of my hole to see light and hope! They tore down my walls and taught me about forgiveness and love! How much I'm loved, how I have purpose and meaning!
There is a great need for the services Kim, her staff and the home can provide. Personally, I have been working with Kim on overcoming a childhood trauma that had a hold on me for over 40 years. I never fully understood the damage done and who I was until, with Kim's experience and guidance.
With six Detox stays, four separate inpatient treatments centers, a DUI charge and a suicide attempt it's safe to say I had hit rock bottom endless times. I never thought I could beat this until I walked through the doors of Narrow Road Home.
With 6 Detox stays, 4 treatment centers, a DUI charge,and a suicide attempt; It's safe to say I had hit rock bottom! I never thought I could beat this until I walked through the doors of Narrow Road Home. The fifth Treatment Center and I was completely ready to surrender everything to God.



I came to Narrow Road telling myself and believing so many lies. Lies about who I was 'supposed' to be, lies about what was 'supposed' to make me happy and bring me joy and the lie that alcohol brought me life. Narrow Road, along with my family and friends, could speak truth into my life and bring light to the obstacles and struggles that had brought me to such a dark place.
The work and commitment Kim and the staff at the Narrow Road House have shown, has been life changing for not only our daughter, but for our whole family. When our daughter first entered into the program, our mindset was "just fix our daughter, restore her" but in working with Kim through this journey ,we have all been restored individually and as a family.
There are no words to express how grateful we are to you for the care and encouragement you have given our daughter since she arrived at your home. We have our daughter back and the change in her is incredible. She is beautiful , full of life, happy , caring, funny and we are so proud of her. Its so wonderful to see her working, volunteering in the community, living an active lifestyle as well as learning about herself and other people. Its all because of the work you do at Narrow Road Home to make that happen. She has hope again for her future and we know this is only the beginning.
From the ones that look like they have it all together to the homeless and broken street person. She was immediately at my family's side when we were hit with a tragic loss. Caring for our mental and emotional needs when our world was suddenly turned upside down, she new how to support and walk us through.
"Where do I go, Lord?" That was my prayer around Christmas time in December 2018. Freshly kicked out of rehab for breaking many rules, struggling to stay sober and not even sure if I wanted to pursue my own recovery anymore – that is the predicament I found myself in as I prayed that simple prayer, desperately hoping for some direction. Hours later at a church service in Oregon, God answered my prayer. It was a typical Christmas service that I didn't think much of but then the pastor began to speak on taking the narrow road and immediately something shifted inside of me. I had been considering going to the Narrow Road Home for treatment but brushed it off – mainly because it was in Alberta and I had NO desire to live there. But in that church service I suddenly had this assurance that the Narrow Road Home is where I was supposed to go. Fast forward to today.. I never would have thought I would be calling High River my home. I never would have thought I would be part of such a loving and supportive community. I never would have pictured myself working two jobs that I absolutely love. I never could have imagined my life the way it is now but it all started with that small cry for help and the acknowledgment that I couldn't do it on my own. I will be forever grateful for this new life and everyone who has helped me along the way. This picture in my house reminds me of the narrow road and how beautiful life is staying on it. 2 years clean and sober.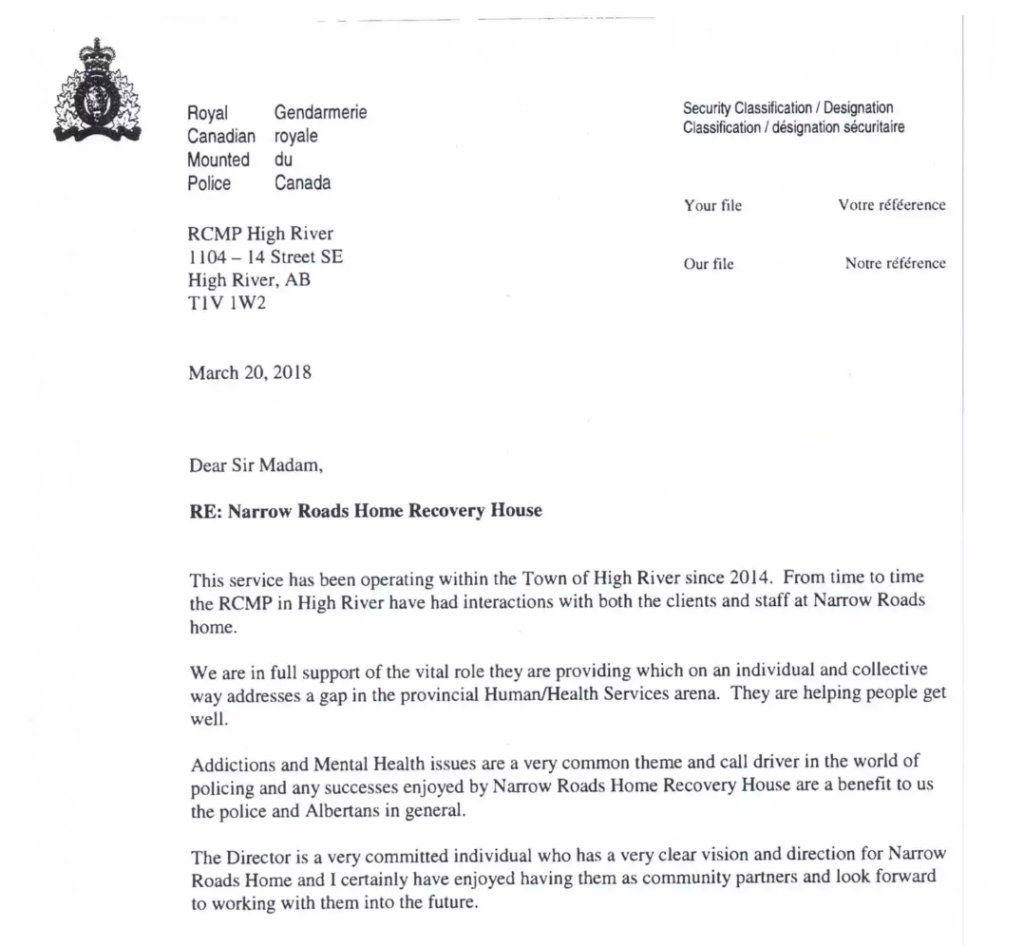 We are very proud to have been supported in High River to do the work we love to do.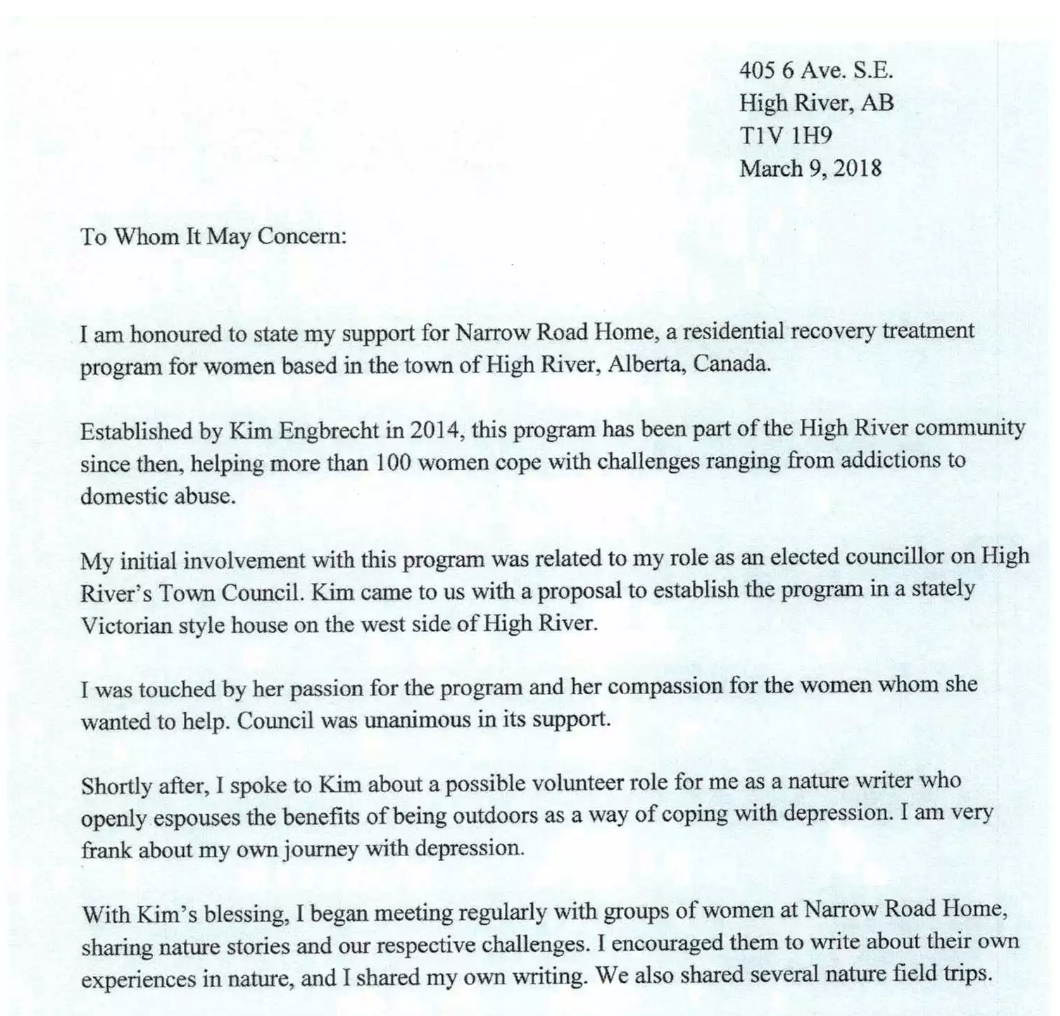 Are you ready to embark on a new journey?