Congratulations to Kim & The Narrow Road Home
Calgary, AB – The Calgary chapter of an international volunteer service organization, Soroptimist International, celebrated its award recipients last night at a banquet at the Delta Hotels Calgary Downtown.
Local philanthropic group honours women in Calgary
Members of Soroptimist International of Calgary honoured Kimberley Engbrecht as the 2017 winner of the Making a Difference for Women Award. This award recognizes a woman who, through her professional or personal efforts, is making an extraordinary difference in the lives of women or girls.
Kimberley is a mother to six children and Executive Director of Narrow Road Home, a women's recovery center in High River. It offers individualized recovery and healing programs for women who find themselves in unfortunate life crises and need professional support and recovery.
Kimberley founded Narrow Road Home two and a half years ago. In that time approximately 75 women and their families have come through the program. Narrow Road Home accepts women regardless of race, religion, lifestyle or financial status – no one is turned away. Kimberley says: "A transformed life is achievable no matter how far down you think you have fallen. The light is not gone and it will penetrate the darkness if you reach out and take the hand of those who have gone before you."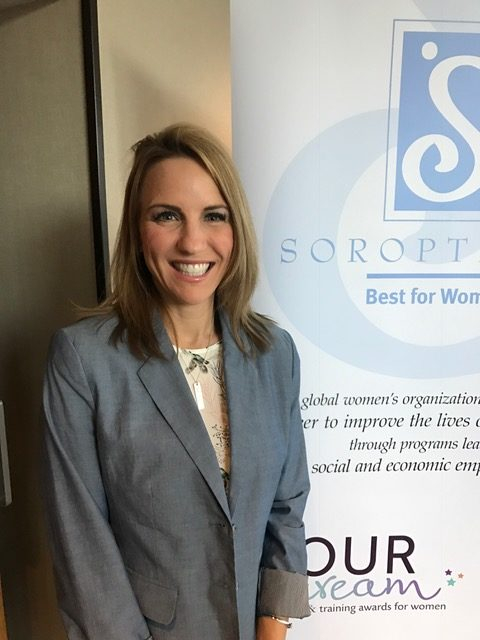 I am very honoured and humbled to receive this "Making a Difference for Women" award," said Kimberley. "This award is for the amazing staff at the house working together as a team in doing God's work. All of the women in the program are a constant inspiration. This is why I do what I do everyday. These women are my heroes and true overcomers!
SI Calgary also issued its Live Your Dream: Education and Training Awards for Women, monetary awards granted to women who are the sole financial support for their family and are enrolled in post-secondary education. Three local women received Live Your Dream awards, one in the amount of $4,000 and two in the amount of $2,000. Unlike most scholarships and bursaries, the grants are not tied to tuition – the women can use their discretion to spend the money where needed, whether books, tuition, child care or household expenses.

"Soroptimists strongly believe that education is the key to ensuring women's financial independence, self-esteem, health and equality," said Angela Bunting, president of SI Calgary. "The Live Your Dream Awards is Soroptimist's signature program because the awards lead directly to women's social and economic empowerment, our overarching goals. When single mothers receive the training they need to start their careers, they not only gain the ability to support their families, they become role models for their children and leaders in the community."
In addition to issuing its awards, SI Calgary works to improve the lives of girls and women through its programs, including an annual conference for girls called "Dream It, Be It: Career Support for Girls" and by funding local and international agencies that share its objectives. SI Calgary was established in Calgary in 1934 and is part of an international network of similar clubs, comprised of almost 80,000 women in over 120 countries and territories.
Contact: Soroptimist International of Calgary Angela Bunting, President