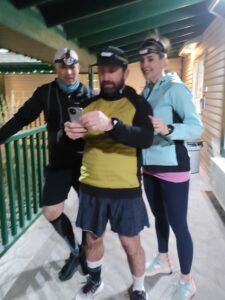 A pair of Foothills area runners will focus on grabbing as many zees possible this weekend in order to help women sleep better at night.
Okotoks' Andrew Morton and John MacKenzie of High River will run the 4x4x48 Challenge March 5-7 in Okotoks to raise money for the Narrow Road Home in High River.
Narrow Road Home is a faith-centred residential facility that assists women who have faced drug, alcohol, abuse and other issues.
The challenge has the participants running four miles in four hour stints for 48 hours. For example, if a runner completes his or her four-mile run in 45 minutes he or she can rest for three hours and 15 minutes before starting their next lap.
In total, MacKenzie and Morton will both run 48 miles.
"John and I both started following (ultra-marathoner) David Goggins on Instagram," Morton said. "And he is doing this challenge and we said 'we are doing it, we might as well do it for a reason."'
They chose Narrow Road Home in part because Morton's wife, Jenn, went to high school with Narrow Road founder Kim Engbrecht from Okotoks. It was Jenn who got Andrew interested in running two years ago.